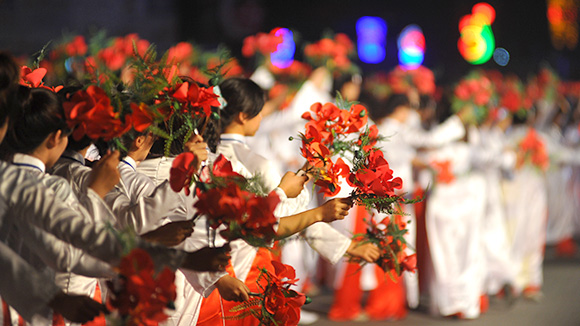 Delonix regia is the scientific name of Royal Poinciana or Flamboyant. Flamboyant is well-recognized by its fern-like leaves and flamboyant display of flowers. Flamboyant is adaptable to tropical or near-tropical climate, and that's why Vietnam is a perfect land for its growth. Flamboyant was first brought to Vietnam by French by the end of the 19th century mostly in Hai Phong, Da Nang, and Sai Gon (Ho Chi Minh City nowadays). Today, Flamboyant is grown all over the countries; however, Hai Phong is the city known as "Thành phố Hoa phượng đỏ" (The city of Flamboyant). Flamboyant covers Hai Phong widely. There is a Flamboyant park in the middle of the city in which every year in May, Hai Phong delightfully celebrate the Flamboyant Festival.
Flamboyant's season starts around April till June, depending on the region it is in. The duration from April to June is close to summer time; therefore, Flamboyant is called the flower of summer. Moreover, summer is the season of farewell since students would have to say goodbye to their friends, their school, and start their summer vacation. Due to this occasion, students would pick up the Flamboyant flowers and place them in the memorial book till dried as a souvenir for a passing school year. This is why flamboyant is considered the flower of farewell.
Vietnamese people believe that there is a story explaining the origin of flamboyant. People said that once upon a time, there was a martial art expert who lived alone in a peaceful village. Since he did not have any children, he adopted five young boys as his children. In order to express his love and care to them, he dressed them in red shirts and taught them martial art. One day, there was an evil guy coming to the village. The evil guy killed people, animals, and destroyed harvest. The evil guy demanded that if the martial art expert to carry 110 pounds of raw meat and 110 pounds of Red Melon rice by himself without having a rest, then he would leave the village. The martial art agreed and started carrying 110 pounds of meat to the evil guy, and later, the 110 pounds of Red Melon rice. When the rice got close to the evil guy, suddenly, the five boys in red shirts jumped out and killed the evil guy. However, the martial expert died due to overworking, and from his grave grew a little tree with a big shadow. The five boys, later, died and were buried next to their dad's grave. Magically, from the five graves, there were five trees with red flowers growing up. The flowers have a burning red color, same shade as the color of the shirts which the five boys loved to wear when they were alive.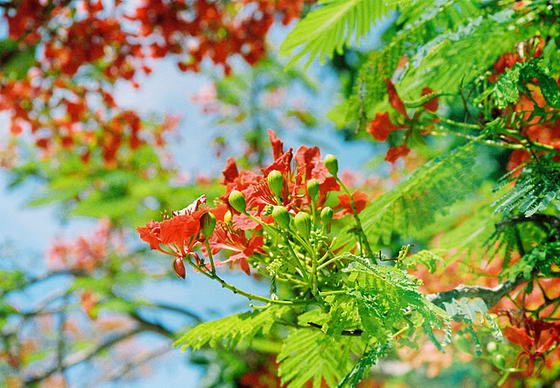 Flamboyant is the inspiration for Vietnamese poets as well as composers, such as Do Trung Quan (the poet), Thanh Son (the composer), etc. Flamboyant in their poems or songs represents an unnamed missing feeling and a vague sadness of people who are in love but cannot be together. However, there are also some songs about flamboyant with a happy, joyful tone, such as Thành Phố Hoa Phượng Đỏ